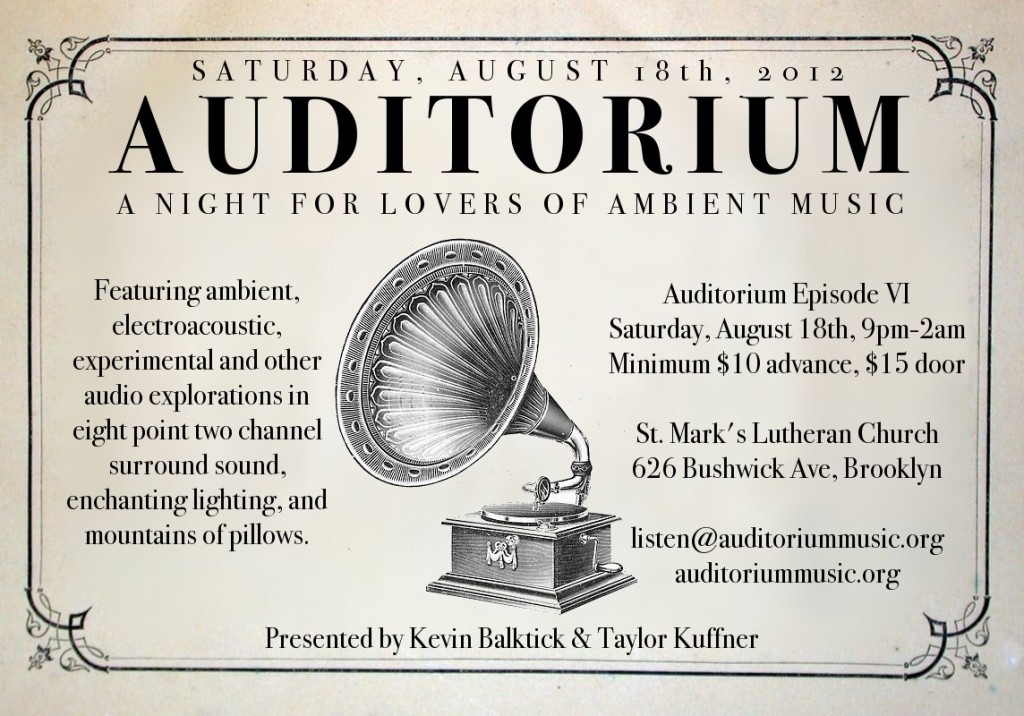 AUDITORIUM: EPISODE VI 
Saturday, August 18, 2012, 9pm-2am
Featuring Dok Gregory, Millions, Zemi17, Jeremy Winters & HurHur
Minimum donations still just $10 advance, $15 door.
At the Bobby Redd Project Space. 626 Bushwick Ave, Brooklyn, NY 11206.
auditoriummusic.org / listen@auditoriummusic.org
Tickets: auditoriummusic.org/tickets
Facebook friend: auditoriummusic.org/facebook
Facebook event: auditoriummusic.org/fbevent
LISTEN HERE
Auditorium is a loft party for lovers of ambient, experimental, downtempo and slow electroacoustic sounds. Expect an inspired soundtrack, immersive eight-channel sound, enchanting lighting, mountains of rugs and seas of pillows. All music is performed live.
HALLOWED HALLS
Our venue is the Bobby Redd Project space, formerly St. Marks Lutheran Church. Built in 1892, this Victorian Gothic hall of worship comes complete with stained glass windows, murals of the rapture and a working pipe organ.
AUDIOLOGISTS
DOK GREGORY (Doktor23) has been composing, performing and recording experimental/electronic music since 1983. His current projects include Zero Gravity Thinkers (NYC) and Silence Corporation (NYC/SPb, Russia). He has performed and exhibited audio/video work in festivals throughout the United States, Europe, Russia, Paris, Switzerland and South America. zgt.me
At Auditorium, he will collaborate with Masha Gitin and perform with a VTOL (vtol.tk) modular synthesizer system, theremin and analog synthesizer.
MASHA GITIN is a painter, muralist, and works with mixed media . Recently she began working with found text and phrase samples that explore a visual wall of pattern and information connected together through an exercise of selective association. Excerpts of these collages when read aloud, take on new aspects of meaning and form. mashagitin.com
HUR HUR is a solo music project by Helsinki's Timo Viialainen, featuring instruments such as hurdy gurdy, acoustic/electric guitar, trombone and different percussions & bells with loops and processing. The result could be described as cinematic/cathartic ritual with the aim to create a powerful and psychedelic outcome. timoviialainen.net/hurhur.htm soundcloud.com/hurhur
MILLIONS (David Suss) is a monstrously dense and overpoweringly gorgeous take on the peaks and valleys of drone. He has tuned into a truly cosmic channel since 2006, sculpting a brilliant body of work across labels like Tape Drift, Blackest Rainbow, Peasant Magik, 2:00AM Tapes, Stunned Records, Install, and more. He performs at Auditorium on synths, guitar, mics, CDs and effects.
JEREMY WINTERS composes music with shifting layers of delicate, electronic sounds.  He will be performing using his homemade controllers, the "tabletar", a drawing tablet based guitar like instrument, as well as an array of infrared sensors.  Jeremy has been working on electronic music and art for 15 years, self releasing his own CDs, building electronic thingies, performing live shows, and collaborating with artists such as The Perpetual Madness Machine, Lullabelle, and Left Sensory Bypass. themoodchannel.com
ZEMI17, or the person known as Aaron "Taylor" Kuffner, is Auditorium's music curator, resident artist and creator of the 8.4 surround sound system.  He creates very visceral live compositions, weaving found sounds and homemade samples into syncopated tapestries, occasionally performing on midi breath controllers, saxophone, voice and robotic instruments. zemi17.net
REVERBERATIONS
Please help support us by making some noise on Facebook and telling your friends. Purchasing tickets above the minimum levels is also most appreciated.
FOUNDING FATHERS
Auditorium's founders and directors are Kevin Balktick and Taylor Kuffner.  Kevin Balktick is a designer and producer of imaginative experiences and culture events, including the Winkel & Balktick warehouse parties, The Lost Horizon Night Market and Horizons: Perspectives on Psychedelics.  Taylor Kuffner (aka Zemi17) is a sound designer, media artist and composer who has performed across the world. Most recently, he is the creator of the Gamelatron, a MIDI-controlled robotic gamelan orchestra.
ENCORES
Still reading?  You can contact us, read our manifesto, be our Facebook friend, join the Facebook event, sign up for the mailing list and tell your friends.
---